Vishal Bheeroo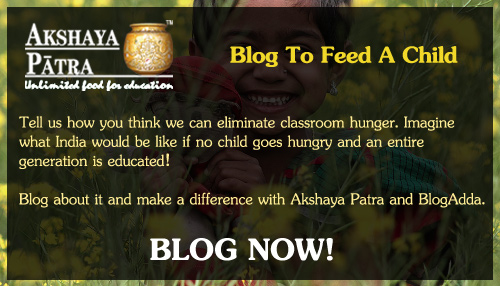 As part of Bloggers Social Responsibility, I am taking part in the initiative  #BlogToFeedAChild with Akshaya Patra and BlogAdda. I tag myself to Dr Roshan Radhakrishnan's post (http://www.godyears.net/2014/11/tag-5-bloggers-ask-their-opinions-and.html). Moreover, I was tagged by Shilpa Garg of (http://shilpaagarg.com/2014/11/eliminate-classroom-hunger.html) on Facebook.
For every post on #BlogToFeedAChild , Blogadda will sponsor meals for an Akshaya Patra beneficiary for an entire year, as a part of our Bloggers Social Responsibility. I choose to 'break from my blog break' for this powerful initiative.
************************************************************************
#BlogToFeedAChild / Beating Classroom Hunger
"Seth! Aap to hamesha Bakshish dete hain," the 7-year-olds twin sisters, almost jumped with joy on seeing me one evening at Marine Drive. It was scorching hot one afternoon and I again saw my cute friends, doing a somersault opposite the sea under the shade of the tree near Baskin Robbins.
I called out to them, "Bachelog, Vada Pav aur kela khaoge." The…
View original post 249 more words